Make a Great Aviation Headset Better
Even a cheap aviation headset can be improved upon with a few dollars and a little work. You would be surprised at the difference you can make in the average headset.
One of my favorite headsets is a Pilot PA-2170. Its a favorite because its one we had and it works well, I didn't go out and buy it. However, one of the things the set did that was a problem was press on the sides of my glasses. On a trip to Oshkosh, it was so noticeable that it became a serious pain issue. The ear cups were also plastic and caused a lot of sweating.
While at Oshkosh, we ran across a company selling headset up grades. One was a temper foam ear piece. We also got a cloth cover for the ear piece. Once these were on, and ever since, I have never had an issue with my glasses. This turned a mediocre headset into a great headset. The ear piece is also made of leather which breathes better and the cloth does help make them more comfortable but are not required.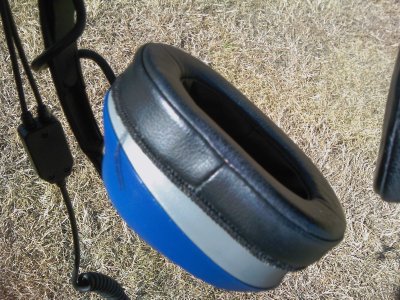 The company also had sheepskin headpads and a few other add ons. Some of these are just hype but again the addition or changing of some small component of your headset may change your mind about the set you're looking at.
I also own a headset, one of the most expensive on the market, that has a terrible ear piece. You would think the best thing since sliced bread for a headset would be included on the most expensive around. Cost isn't always a good indicator of quality.


---
Aviation Headsets Buyer's Guide
---