Aviation Headsets
a Buyer's Guide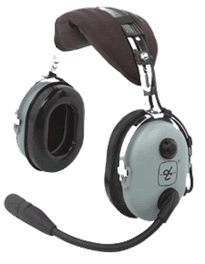 Aviation headsets, I get asked all the time, "what headset should I get?" Unfortunately, there is no set answer when it comes to headsets.
I have had the opportunity to try many different brands of headsets over the years and have my own opinions about them. You know what they say about opinions, everybody has one, along with some other things.
What I would like to do with this section is talk about my opinion on aviation headsets. I have never personally bought one, however have owned many brands. I have no bias since I am not vested in anyway with a particular headset. So, with that said, here's my opinion.
My first response with my students when they ask which set to buy is to get one of the cheapest, even used, aviation headsets or borrow something from a fellow pilot. The reasoning behind this is until you get the feel of how a headset works and how it feels on your head, you won't really know what to look for. Its about like someone asking "which shoes should I get", its a personal preference and needs to match the situation in which they're used.
So what do you need to look for? First, I will tell you that price is not a good indicator of a good headset. Some of the most expensive headsets on the market don't hold up as well as some of the least expensive. Remember, its two plastic cups with speakers connected by a headband and a microphone. There are only so many ways you can build one.
What I look for in an aviation headset is first, reasonable price. That means different things to different people but I want to get something significant if I'm going to spend more money.
Second, I want them to feel right on my head. If they don't fit well and feel right it doesn't really matter how well they work. There's nothing worse than flying and having to constantly adjust the headset. I want to forget that I'm wearing it. Its also important to feel how tight the headband squeezes your head. I've used some great sets only to wish the flight was over because it felt like a vise was on my head. If you wear glasses, either perscription or typical sunglasses, put them on during this process. Your glasses can get quite painful if the headset or earpieces produce too much pressure. Take your time and get a good chance to see how they fit and feel.
Thirdly, I look for the amount of sound they block out. Not what the decibel level they claim to block out but how it actually sounds. You might find an inexpensive set works good enough for you. There are two basic types of headsets, passive and active noise reduction. Passive works on insulating your ears from the ambient sound. Active actually has a sound deadening system that counteracts the ambient sound. That doesn't necessarily mean its better. Its a different method of sound suppression. Keep in mind the active sets also require power to run the system which may mean a battery to replace or that runs out mid trip.
Fourthly, there is a difference in microphones, however, that's usually a secondary consideration and after you've decided on the earpieces and sound suppression, the mike is rarely an issue.
One other thing to look out for is durability. Unfortunately, durability is hard to assess. I have seen some headsets, like David Clark, that seem to last forever. I have also seen fairly top line sets of other brands that have the cords disintegrate in a few short years. I also have a very expensive set that the earpieces fell apart after a couple of years. The manufacture recommended that they be changed every year or 300 hours anyway. You would think for that kind of money they would throw in a lifetime supply of earpieces or make them indestructible. Ask fellow pilots about the durability. Keep in mind, if a guy spent over a thousand dollars for a headset he may not want to admit they are falling apart.
So, let the buyer beware. Do your research and make up your own mind. The headset you end up with may be with you for a long time.


---
---
---
Lightspeed Headset Model QFR Solo
---
---
---
You can give your view on aviation headsets
Do you have a personal attraction to your headset? Do you wish you could divorce your headset? Help keep other pilots on the right path with a review and the pros and cons that come with it.