David Clark Headset Review
Model H10-30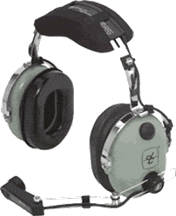 The David Clark headset, model H10-30 has been around for a while. It is a passive noise reduction headset. Noise reduction is 24dB, slightly lower than others I have worn. We have two sets installed in cloth helmets for open cockpit biplane flying. One thing you can say for them is they are dependable. We've had ours for about 25 years.
This headset is the standard by which all headsets came from. I have a set that is probably twice the age of the ones I use and have the same green ear cups. You will notice the shape, size and design in many other brands on the market.
This model is significantly heavier than most other modern headsets. It weighs in at 20 ounces, nearly twice the weight of most "light weight" headset. With that said, I have worn mine for several hours at a time without any discomfort. Being heavier may also have something to do with the durability of the set, although that's just conjecture on my part.
The headband is metal and totally adjustable. Pressure on the sides of my head is not uncomfortable. The headband has a rubber pad on my set and I believe some now come with a softer, padded headpad.
The mic is on the end of a wire boom. It doesn't look as snazzy as the flexible boom arm but in my opinion is a better mic holder. It is nearly infinitely positionable and can be tightened at all joints with screws. I tend to fiddle with the flexible booms more than with the wire boom. The mic itself is probably one of the biggest but again does not seem to be a problem.
Ear cups on the set are foam with plastic covering. This is the only item on my set that has had to be replaced. After about 25 years of sitting in one of the planes, the foam disintegrated. These were replaced with the temper foam upgrade and as usual, make the set fit great.
Cords are straight and are still fine after 25 years of use. So these are durable and very adequate headsets. More of these David Clark headsets are in use than any other headset of its kind. List price is $270.


---
David Clark Headset top of page
---
Aviation Headsets Buyer's Guide
---